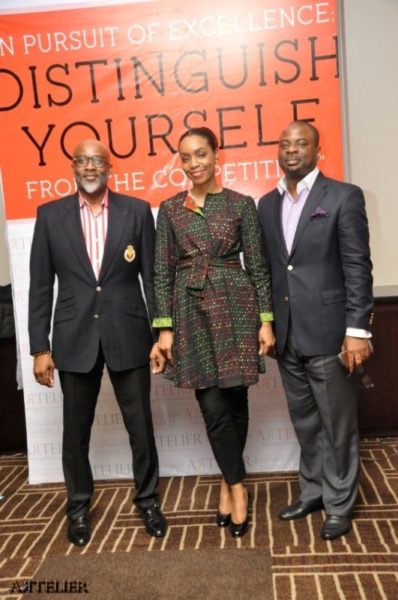 The Artelier Lifestyle Consultants 2013 Seminar took place at the Southern Sun Hotel, Lagos on Wednesday 10th July 2013. The one day seminar held from 9AM to 5PM and was attended by delegates from a cross section of organizations, both employees and entrepreneurs, with a desire to excel and to distinguish themselves in the marketplace.
Being a pre-registered event, attendees were given prior knowledge of everything to expect and were treated to an illuminating experience as the speakers poured out from their wealth of wisdom, guiding the participants on the path to excellence.
As a foretaste of what was to come, delegates walked into a beautifully branded hall in the Artelier colours of orange and grey. The event was anchored by Mrs Dayo Benjamins-Laniyi, Enterprise Communicator, and kicked off with Mrs Ngozi Princewill Utchay, the host, and CEO, Artelier Lifestyle Consultants, who shared the vision of her organization with the attendees before launching into her riveting presentation – "In Pursuit of Excellence".
Dr
Sola Fola-Alade
, United Kingdom based Author, conference speaker, Publisher of the "Leadership and Lifestyle" magazine, Coach, Mentor and Founder of
www.empowermentuniversity.com
followed soon afterwards with his in-depth and highly enlightening analysis of branding. He emphasized on the need to specialize, evolve and distinguish oneself, product or company from the competition, until one becomes totally differentiated and distinguishable from those offering similar products and services.
With the audience stirred up, Mrs Ifeoma Williams, Managing Director of Fruition Image, and a leading image consultant and brand communications expert, then took the floor and educated the attendees on the fundamentals of image, and the importance of getting it right and having it work for your elevation. In her words, "It is packaging that makes a product stand out and become more appealing than the others in its category" She later buttressed the point that excellence in appearance and presentation were key to ensuring visibility, promotion and enhanced patronage.
The last but by no means the least, was Mr Lanre Olusola, radio and TV personality, Author and foremost life coach popularly referred to as "The Catalyst" rounded up the order of presentations with a captivating delivery titled "Position Yourself for the Peak!". The session was so practical and impactful that it left attendees with new convictions and resolutions to strive for excellence and remain unwavering in the pursuit of their goals.
True to the 'Promise Value' earlier specified by the hosts, the attendees were challenged, motivated, inspired and certainly equipped to reach for new levels of confidence, creativity and clarity in the Marketplace. One of such participants enthused
"These programmes have been very impactful on my life, starting from the one that was held last year. You know sometimes you're just surrounded by so many limitations that are actually all in your mind and you forget that there are so many things you can do. But every time I attend this program, it reminds me that I can be the best me I can be and just go out and empower my world; to carve my own niche and always remember that no one can do what I do better than me.
So it's really impactful. I mean, I'm just trying to put all these in words but they can't really express how I feel or the impact these messages from all the wonderful speakers have had on me. It should be held quarterly".
And another added "I'm very amazed by what I got today. I don't think any amount of money can quantify what I've just learnt. Positivity is the root of success, so I think of what we did today as the fundamental way to distinguish yourself from the competition. I'll say that the organizers should keep this up and create more awareness for future programmes."
The 2013 Seminar was very generously sponsored by Barnhouse Foundation, BeatFM, ClassicFM, Genevieve magazine & Nathan's Dry Cleaners.
View photos from the event.